Music is one of the greatest sources of entertainment. The real essence lies in how to play the different musical instruments. Producing a melodious output is not easy unless you master how to use a particular musical instrument. In the world of musical equipment, trumpets are characterized as being difficult to play. When you want to gift something unique to your little one who is a music fan, you can buy a trumpet for kids. These trumpets are beginner-friendly musical instruments.
They produce melodious sound and are affordable for students as well as beginners. Considering the use for kids, they are usually designed lightweight and portable. Most of them don't demand frequent repairs. One of their key specialties is precise intonation. To entice the mood of kids, a lot of these trumpets are available in appealing designs and colors. These instruments work the best to deter kids from digital devices. Now let's get into the below section to pick the topmost trumpets for kids:
Key feature to consider for trumpets for kids:
From lots of consideration, the below features help you simplify the choices for trumpets for kids:
Bore size:
Always look at the bore size before buying a trumpet for kids. Typically, for kids' use, a trumpet with a small bore size is recommended. Larger bores imply heavier trumpets. The typical bore size must be in the range of 0.458 inch to 0.460 inch. If the bore size is more, it needs excess effort to play which is not suitable for kids.
Design:
Since you are buying a musical instrument for kids, make sure it soothes their minds. It must be easy to hold and easy to play. You can glance at the reviews to get a rough idea of how comfortable the particular musical trumpet is. Browse for trumpets in colorful designs that depict fancy cartoon characters. Kids usually love a trumpet that is colorful and with their favorite cartoon character imprinted.
Safety:
There must be no compromise in the build quality else kids' health may be at risk. Try to buy a trumpet that is completely safe, non-toxic, and BPA-free. You can go through the detailed specifications to ascertain that it is built from all safe components.
Accessories included:
Look for what accessories it comes along with. The accessories like a pair of gloves, a carrying case, cleaning clothes, brass mouthpiece, valve oil, etc. are considered vital for reliable use. If you want to let your kid frequently use the trumpet while outdoors, make sure it comes with a carrying case. For ease of maintenance, it must come with cleaning cloths. Certain trumpets just come with a case and lack other accessories. Under such cases, you may need to buy the relevant accessories separately which adds up to the cost.
Ease of maintenance:
Refrain from buying a trumpet that needs a lot of learning time. Try to choose the one from a reliable brand and the one that is easy to learn and maintain.
List of 7 Best Trumpets for kids Reviews in 2023:
No products found.
7. CLICK N' PLAY Musical Wind Instruments, Set of 2: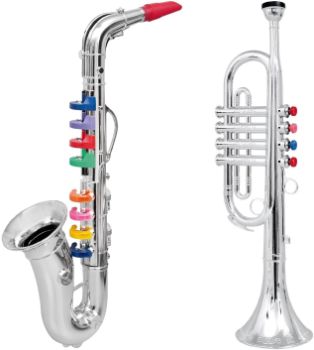 For kids, music is one of the most rejuvenating activities. With this set of wind instruments, you can let them explore their musical talents. The set contains a trumpet and a metallic silver saxophone. This set is easy to learn and easy to play with. Both the musical equipments are easy to operate for kids and even for beginners. When you press keys, each one of them produces a natural sound. The size of each musical instrument is 16.5 inches. Moreover, the use of European material makes the set heavy-duty.
For kids aged 3 years and above, this set seems comfortable to play with. The saxophone is equipped with 8 keys whereas the trumpet has 4 keys. For the convenience of kids, the keys are color-coded. Hence, they can very easily play the songs printed on the rear of the box. One of the most unique features of this set is the instruments are safety tested; they are free from BPA and lead.
Pros:
Beautiful glittery silver finish
Produces powerful and natural sound
Each key has a unique note sound
Why We Liked Trumpets for kids?
Within less time, kids can easily learn to play it without any hassles.
6. Bontempi 32 3831 4-Note Silver Trumpet (37 cm):

The reason why your little one will fall in love with this silver trumpet is it does not make any weird sound. Gradually as your kid begins playing with it, he/she can easily learn how to produce natural sound. The overall design is cute and ye-catching to soothe the mood of kids. It comes with a lofty fun factor that keeps kids away from using digital devices. 4 colored keys let you change the sound output. Each of these keys comes in unique colors i.e. red, pink, blue, and orange.
The total length is 370 mm and the weight is 3.03 ounces. For kids aged 3 years and more, it feels comfortable to play with. To produce the natural sound, you need to blow it out loud. Initially, kids may find it difficult to play. However, when they learn how to operate the keys, it becomes quite simple to know how to play them. If you are among those parents who are concerned about the exposure of kids to digital devices then this trumpet is a great choice. It keeps your kid involved in the play for a few minutes or even hours. Hence, they will automatically distract from digital devices.
Pros:
Sleek and adorable design
Free from harmful components
Affordably priced for the features
Why We Liked It?
The entire size seems enough for kids to comfortably play around anywhere.
5. ArtCreativity 13 Inch Plastic Trumpets: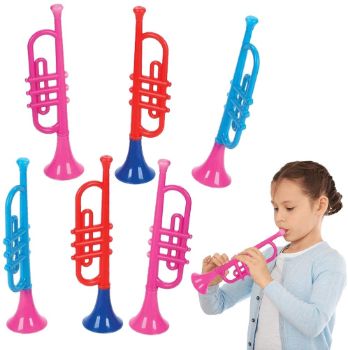 Both for kids and toddlers, this set of 6 trumpets is so much useful. All 6 musical instruments come in a dynamic and appealing design. The different colors of trumpets make sure it becomes easy for kids to identify. These amusing musical instruments are alternatively known as noisemakers for events and parties. They are also best to use at birthday parties and other special occasions. Each of the trumpets has a size of 13 inches and they keep the user thrilled for ours. The eye-catching colors they come with are namely blue, pink, and red. These vibrant colors will entice the kids' attention in the first place.
If you are concerned about how to alleviate the stress of your kid then this set is a perfect choice. Apart from fun, it exposes your little one gets exposed to knowledge of the musical world. The appealing and vibrant colors of these trumpets make sure they complement the various themes of parties and events. It is not at all complicated to use them. Simply blow them and try to produce a melodious sound.
Pros:
Attractive color and design
Relieves stress and enhances mood
Suitable for events and parties
Why We Liked Trumpets for kids?
The attention-grabbing sounds they produce are the reason for the celebration around.
4. Kicko Metallic Trumpet – Trumpets for kid 2 Pack: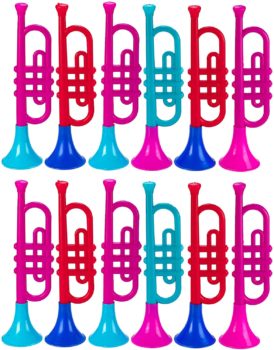 The 13.5-inch metallic trumpets in this product are famous for being beginner-friendly. They are available in assorted colors to entice anyone's attention in the first place. Not just for daily use, they are ideal for parties and special occasions. Adults too can play with these trumpets along with kids. By doing this, kids can better learn the instruments without any hassles. The metallic brass construction ensures lasting durability. Moreover, the entire construction is 100% safe and non-toxic. The harmful components like lead, phthalate, and BPA are absent.
Once your little one begins using them, they can relish the benefits of playing musical instruments. The multicolor design gives your little one's more fun while learning. The pleasant sound at the output is free from distortion. Another key aspect is each of these instruments is convenient to handle. You will not find hassles when carried in your hands. Furthermore, being portable, it feels extremely convenient to carry along anywhere.
Pros:
Durable and safe build
Produces lifelike trumpet sound
Attractive multicolor design
Why We Liked It?
We like the enticing designs and the ability to produce a melodious sound.
3. Milisten Kids Trumpet Music Toy: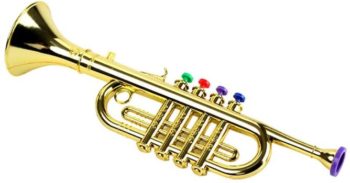 Are you looking for how to enhance the mood of your kids? or are you searching for some extraordinary gifts for kids? If yes then this Milisten music toy set is of great usefulness. It is basically a saxophone trumpet horn that is found easy to learn and easy to play with. Apart from introducing the user to music skills, these instruments improve your kids' memory power and concentration skills. The golden color flaunts an appealing look to grab the attention of anyone in the first place. The total size is 37 cm x 8.5 cm x 3.05 cm.
The support for 8 rhythms makes this set unique from the rest. Depending on your musical skills, you can produce the sound output in any of these rhythms. One of the most functional elements is the 8 color keys. These keys are easy to mix so that you can customize the sound output. The overall compact size makes these instruments ideal for stage performance and parties.
While playing these instruments, kids can learn saxophone, enhance calcine lung capacity, practice finger sensitivity, and more. With the gradual use, there will be a boost in their self-control ability. They can better decide on how to produce melodious sounds. The superior quality plastic construction does not make a compromise in the portability. The small size and lightweight design make it safe for children.
Pros:
High-quality plastic and metal construction
Extremely comfortable to play and learn
Imparts many new skills to kids
Why We Liked Trumpets for kids?
This musical toy keeps the little ones entertained comfortably for hours.
2. Kicko Metallic Trumpet Toys – Trumpets for kid 12 Pack: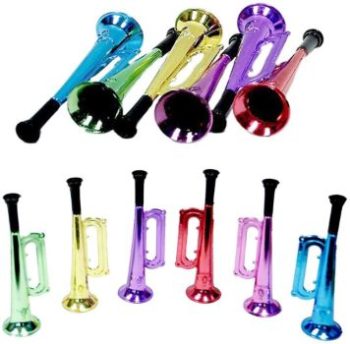 Remove your worries on how to adorn your parties or special occasion venues. This pack of Kicko trumpet toys comes in assorted colors to entice anyone's attention at the first glance. Moreover, they are exceptional decor gifts as well as giveaways for extraordinary occasions. For instance, you can use them for Christmas, Birthdays, sports events, musical events, and more. Kids can use them for stage props, pretend play.
There are 12 metallic trumpet toys in the pack and each measure 6 inches. Available colors are yellow, blue, green, red, pink, and purple. All these colors flaunt a dynamic and appealing look. The shiny metallic finish further enhances the entire appearance. The short mouthpieces work impeccably for beginners. It is now possible to boost a cheer for your preferred sports team with this set of trumpets.
When your kids dress in a party dress, holding any of these trumpets gives an extraordinary look. They can act as if they are holding a real saxophone or flute. Along with the sound features, the build quality is a significant parameter to consider. All these musical instruments are built from non-toxic, durable materials. The materials are tested for safety purposes. For kids aged 5 years and more, the set seems the best one considering the price. However, adult supervision is recommended. Children must not walk keeping the blower in their mouth.
Pros:
Available in bright assorted colors
Suitable for party and events
Imparts educational skills
Why We Liked It?
We like the assorted colors and vibrant designs.
1. Trumpets for kid D DOLITY 14 1/2 inch Plastic Toy Trumpet: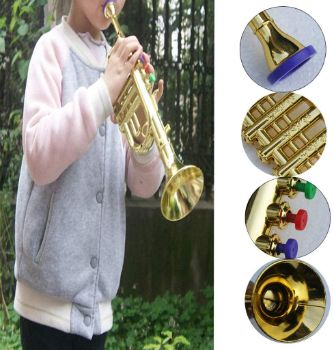 D DOLITY presents this trumpet toy that is fun to play with for kids. Apart from fun, it can train the sense of the rhythm of kids and enhance their musical skills. There are 4 colored keys available. Being versatile, you can use this toy trumpet for stage performance, school musical functions, parties, etc. The use of quality ABS makes it extremely durable. The total length is 37 cm.
Pros:
Durable ABS construction
Easy to make melodious sound
Compact size and lightweight design
Why We Liked Trumpets for kids?
We like the ease of handling and melodious sound output.
Concluding Note:
Kids can easily get familiar with how to produce melodious sounds with these trumpets. They are easy to learn and comfortable to play with.