Being on the move always is an exciting prospect for us. But then when it comes to long journeys, such as a countryside long drive, one might find the scene to be a bit dull. How about a TV which we can carry anywhere? That's what the purpose of portable TV is: entertainment on the go.
Portable TVs are the mini version of the regular TVs we have at home. This form of entertainment is one step closer to personal enjoyment but is not restricted to private viewing also. Sitting in a caravan, sipping lemonade and watching the latest episode of one's favorite sitcom is quite enthralling. Let's dive into the available models with a list of top 10 best portable TVs given below:
List of Best Portable TVs Of 2020 Reviews:
10. Portable TV Trexonic Ultra 12 inches LED TV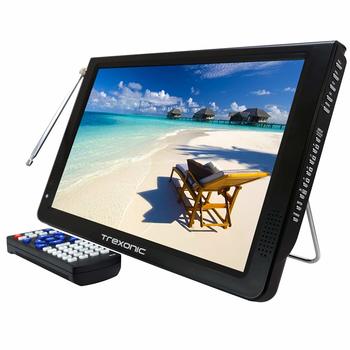 By: Trexonic Portable TVs
One might be looking forward to catching up with some sitcoms on a journey, wherein Trexonic Ultra LED TV can be one's best companion. The package includes a wall charger and a 12V vehicle power input included. As for the input and output ports, there are several ports such as HDMI, SD, MMC, USB, Headphone Jack, VGA, AV inputs and output and built-in digital tuner, which makes it highly versatile.
The remote which comes along with the package helps one to adjust channels without having to move from the seat. The telescoping antenna which is detachable and comes along with the box, which allows the user to access all the channels without having to stream from elsewhere. The anti-slip textured panel is sturdy, with the adjustable back handle giving extra support and the best viewing angle to the users.
Compelling reasons to buy:
HDMI,SD,MMC,USB,VGA,AV inputs and headphone jack are included in the TV
A separate remote is available to change the channels and does other settings
A detachable telescope antenna is available.
Our verdict:
One can comfortably relax and watch their programs without having to tilt their heads a lot, as there is already the luxury of adjusting the TV according to one's best viewing angle.
9. Supersonic Portable LCD TV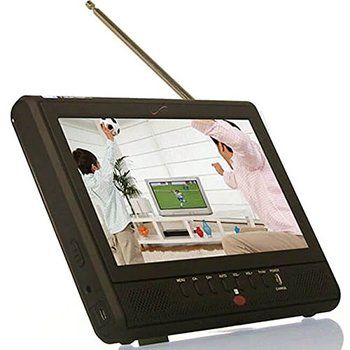 By: Supersonic Portable TVs
The Supersonic Televisions are known to have great reception and sound quality pictures displayed on the screen. They have dual ATSC/NTSC Tuners for both digital and standard reception, which makes it versatile. The package comes with a 12 volt DC adapter for the car, which is, in fact, an excellent addition. Both audio and video input is well received, and it does not change the quality of the same.
The TV also comes with remote control, which has all of its functions marked on it. There is also an additional USB and SD card slot, which is optional. Also, there is a built-in rechargeable battery which powers the portable TV. Additionally, there are integrated accessories such as TV stand and speakers, which add up to the benefits. Many settings can be done from the screen as well.
Compelling reasons to buy:
Dual ATSC\NTSC tuners available for both digital and standard reception
Additional USB and SD card slot is present
Built-in speakers and built-in TV stand is current
Our verdict:
Supersonic TVs are your regular TV which does the same function, but it is quite convenient due to its portability.
8. Fosa Digital Television – Portable TVs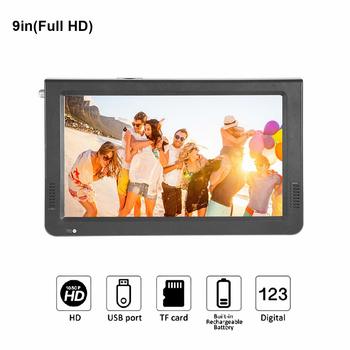 The Fosa Digital Television is a portable digital T.V, which is in accord with ATSC standard, therefore not supporting analog TV. The TV equipped with USB port and TF card slot and one can connect a USB disk or a TF card to them. The digital TV supports 1080 video in formats such as MKV, MOV, AVI, WMV, MP4, FLV, MPEG-1, RMVB, and MP3.
The sharpness of the pictures is too excellent that they come alive along with the high definition sound. The built-in lithium rechargeable battery makes it easier for outdoor use as well, with a single charge lasting over a long period. The digital television comes with a digital remote as well, which can be used to change the settings of the TV. The holder supports at the back of the TV, which can be folded back after use.
Compelling reasons to buy:
Video formats such as MKV, MOV, AVI, WMV, MP4, FLV, MPEG-1, MP3, and RMVB are supported.
The built-in lithium battery has a long battery life
There is a USB port as well as a TF card slot present on the TV.
Our verdict:
Although it is not an analog TV, digital TV is too good at channel tuning of excellent quality. The audio and video are of HD quality, which makes Fosa a great brand of digital television.
7. Chaowei DTV530 Portable TV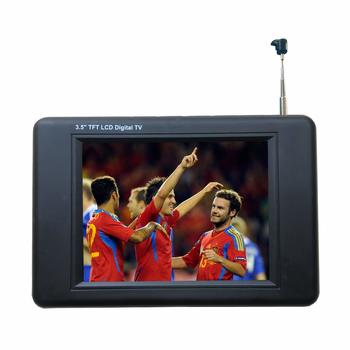 Chaowei digital televisions are 3.5 inches TFT LCD screens which are available in both 16:9 screen ratio as well as 4:3 screen ratio. The selectable screen model works for 2.5 hours in one cycle of full charge. The digital TV has a full ATSC digital broadcast receiver, with reception frequencies in the range of 57MHz-803MHz.
Some notable features of digital TV include digital volume control, auto channel programming, low battery indicator, and closed captioning. Usually, the digital television powered by an AC adapter, but there is a built-in lithium battery which acts as a backup, which will work with DC to USB adapter for any power bank with 5V output. Apart from all these features, the package also includes a telescopic/external magnetic base antenna, stereo earbuds, built-in speaker, carrying pouch and an MCX connector for the high gain antenna to boost the signal.
Compelling reasons to buy:
Full ATSC receiver with reception frequency coverage in the range of 57MHz-803MHz is there.
An external magnetic base antenna included
Stereo earbuds are also available for ease of listening to music.
Our verdict:
The digital television is an excellent example of great inclusions such as having a telescopic antenna and an MCX connector for high gain antenna.
6. Milanix MX9 Portable TV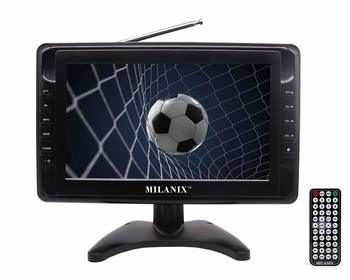 The 9 inches widescreen LCD Televisions by Milanix has built-in television tuner, rechargeable lithium-ion battery, and inputs for external audio/video playback. Both AC and DC adapters approved by ETL, and they have input/output jacks as well.
To play one's favorite recordings, there are USB/SD inputs on the TV. For those with game systems, there are dual AV inputs to use as well as the built-in speaker and earphone jacks. The full band digital TV tuner supports ATSC as well as NTSC. The TV's package includes 9 inches LCD, adapter, full-function wireless remote, high external power to boost the signal, AC wall charger, AV cable, removable stand, and instruction manual.
Compelling reasons to buy:
9 inches widescreen LCD television
ETL approved AC and DC adapters.
USB and SD inputs were available.
Our verdict:
Milanix has been an excellent brand to rely on, primarily because of the reason that many of these televisions have incredible technology implemented in them.
5. Tyler TTV702-9 Portable TVs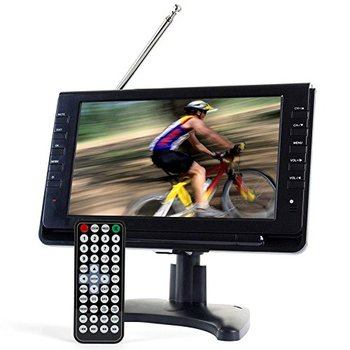 TTV702-9 is a 9 inches widescreen model that displays only sharp and clear pictures using the multiple antenna options. For standard external audio and video playback, there are USB/SD input ports, whereas, for a DVD player or game system, there are dual AV inputs. The television comes with included AC/DC adapters as well as a built-in rechargeable lithium battery.
There is a full band digital TV tuner which supports both ATSC and NTSC. There is a crystal clear view of things, as the telescopic antenna makes sure there are all channels available always. Apart from the television, the package contains a full function remote, external high power antennas, AV input converter, removable display mounting pad, and an instruction manual with one year warranty.
Compelling reasons to buy:
Full band digital TV tuner supporting both ATSC and NTSC.
Dual AV inputs are there for the game system.
Multiple antenna options are present.
Our verdict:
The digital television is a good buy for all the right reasons, most importantly, there is a one full year warranty plus the multiple antenna options.
4. AXESS TV1703 Portable TV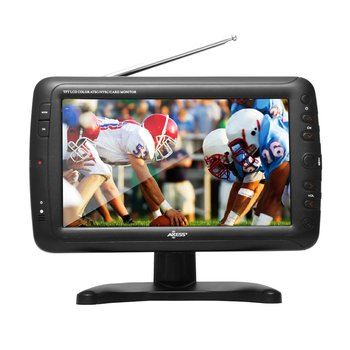 AXESS TV1703 is a 9 inch LCD TV model which is also portable. The TV has a resolution of 800*480, with a ratio of 16:9, which gives it a standard HD clarity. A built-in lithium-ion battery acts as the backup power source, which is to be put on recharging state later.
The TV has various features such as AV input and output jack, earphone jack, and built-in speakers. With both AC/DC operation, it is possible to watch TV at home as well as while traveling out. The TV packaging includes a full function remote as well as a power adapter since the only power supply is through AC. There are separate SD card and USB slots on AXESS TV1703.
Compelling reasons to buy:
The TV has a resolution of 800*480, and its screen ratio is 16:9
Separate SD card and USB slots are available.
Full function remote available along with the packaging.
Our verdict:
This portable TV is an excellent companion for travel as this is easy to carry around and has a good power backup.
3. Apeman mobile TV – Best Portable TVs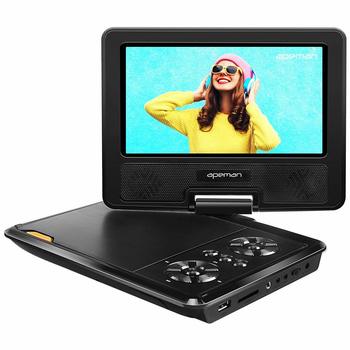 Many times, it has happened that people would be able to see only one portion of a long movie because the portable TV had a backup power of fewer than 2 hours. With the 7-inch screen mobile TV, one can have an uninterrupted playback of 4 hours. The control panel of the TV is made of high-quality aluminum buttons, which are resistant to corrosion.
The remote controller that comes along with the TV ensures that a person operates the player efficiently. Apart from the TV remote, a 3-1 AV cable, wall charger and a car charger are also available. The screen can swivel 270 degrees and 180 degrees in folding. This portable TV is the smallest and the most lightweight, at 2.77 pounds. A game USB is there so that gamers can use joysticks and play any game.
Compelling reasons to buy:
Game USB included in the portable TV
270 degrees swivel and 180 degrees folding is possible
Four hours of battery backup.
Our verdict:
Swivel, fold and watch with complete relaxation, with the newest model of Apeman portable TV, which lasts longer for four hours without any interruptions.
2. Envizen digital quartet Portable TV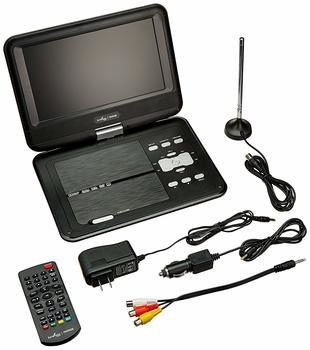 By: Envizen Digital Portable TVs
The 9 inches mobile TV from Envizen is a DVD player also, with a card reader in place. The screen can swivel as per the user's wish, and there is a carry bag or a car bag provided in which the user can keep the portable TV and carry it anywhere they want. There is a remote control as well with the package.
The high definition LCD has an 800*480 resolution, which has high clarity. The portable TV is also a multimedia player, with high resolution. There is a built-in ATSC digital tuner which receives TV channels from a very high range. There is an external antenna included as well, which facilitates maximum signal reception.
It can be held in hand also, without any issues, as it is quite compact. There is a built-in rechargeable battery as well, which stays for a long time. The package also contains AC adapter, car adapter, car head seat attachment, carrying case, a/v cables, remote control, and an external antenna.
Compelling reasons to buy:
High definition LCD with 800*480 resolution
The portable TV is also a multimedia player
The external antenna is also available for better reception
Our verdict:
The handheld device is easy to carry and operate, delivering only high-quality videos and audio. What more can a simple portable TV do better?
1. Naviskauto dual screen Best Portable TVs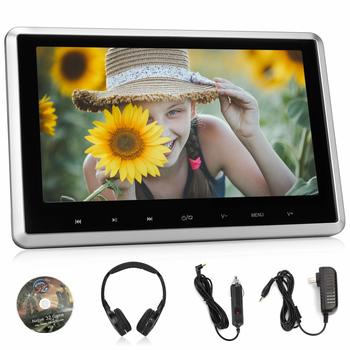 By NAVISKAUTO Portable TVs
Dual screens for the same content, isn't that a fascinating dream? What if it is a dream that Naviskauto manufactured and made them come true? One can sync the host DVD player and the slave monitor to play the same content at one time. The primary monitor would play alone for 5 hours, and along with the slave monitor, the battery would finish in 2.5 hours or 3. There is a 9.8 ft car adapter, 9.8 ft AC power adapter, remote controller, car headrest mount straps which are used to install the car DVD player.
There are a built-in USB and SD card slot, which allows one to play all the movies and videos. The memory function is enabled to resume from where one left so that no part of the show is missed out. There are multiple formats which get support on this device, such as, DVD, SVCD, VCD, DVD-5, CD, CD-R, CD-RW, CD+G, DVDRW, DVDR, DVD-9, WMA, MP3, JPEG, JPG, DIVX, DAT, VOB, FLV, AVI, and MPG.
Compelling reasons to buy:
The device supports multiple formats
The dual screen can play the same thing simultaneously.
Memory function is there to resume from where one left.
Our verdict:
Memory function itself is a good reason why this portable TV is popular because it never lets you miss out anything.
Buyer's guide:
The portable TV has emerged recently to be one of the most preferred sources of entertainment during travels as it is portable anywhere.
Therefore, a few points to keep in mind while buying a portable TV would be the battery life, resolution, power backup, and durability.
Because if the TV is not durable, one might face issues while transporting it from one place to another. Sometimes a small thud can break the surface and leave scratches. Also, if the resolution is not right, one might not be able to watch quality videos and movies. In case the battery life is miserable, the user might be frustrated with always having to charge the TV. Also, the power backup must be kind enough to avoid getting switched off in the middle.
Rest assured, the TV should be really in your budget so that you do not have to invest in an expensive thing. Lookout for the brands as well; the more significant the brand, the better the quality.