Forget the exhausting trips to your massage therapists; innovation brings you a new way of enjoying spa-quality massage therapy right from the comfort of your home. Gravity massage chairs are your go-to option if you cannot go a day without massage therapy; they should be a necessity rather than a luxury. Rightfully considered an orthopedic device in every sense of the word; these massage chairs offer personalized support and comfort to your liking.
They elevate your feet to the same level as your heart and minimize the strain of gravity on the vertebrae making you feel virtually weightless and relieving the discomfort of back pains. With zero gravitation massage, you feel fully relaxed both physically and mentally.
We don't want you to fall into the trap of low-quality massage chairs that label their products as best to attract customers. For this reason, we have highlighted the best gravity massage chairs you can buy and what you need to look out for.
List Of Best Zero Gravity Massage Chair Reviews In 2020:
#10 Osaki OS4000TA Model OS-4000T Zero Gravity Massage Chair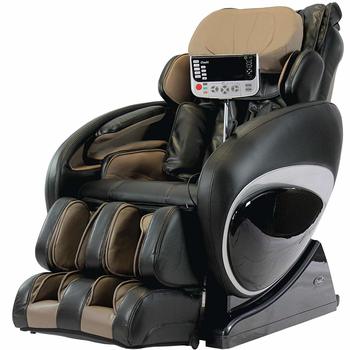 By: Osaki Zero Gravity Massage Chairs
A deserved entry to this list, Osaki did a commendable job constructing this elegant unit. It is a perfect getaway plan from the monotonous routine life and can please you all day. The unit features unique features like the computer body scan and air massage technology; all meant to offer relaxation benefits and eliminate stress and fatigue. The company understands that everyone has a unique way of relaxing, kind of like a fingerprint. So they offer six different massage styles, Six Unique Auto-programs, auto recline, and five levels of speed and intensity to match your demand and preferences.
The leg extension and unique foot roller will do away with any possible swelling of the legs and offer support. You are also free to lift and stretch the calf rest to your specifications. Other practical features worth mentioning are Lower Back Heat Therapy, Shoulder, Lumbar and Hip Squeeze, Auto Leg Scan, S-Track Movable Intelligent Massage Robot, and auto timer, among others. The chair relies on a 110-120V power supply for power with a 2.1m chord included for connecting to the output.
More Features
Multiple color options available
Comes with a full size easy to use remote.
#9 Ootori Zero Gravity Massage Chair S-Track 3D Full Body Air Massage Chair
By: Ootori Zero Gravity Massage Chairs
A thrilling and relaxing massage session is never complete without such a high quality and comfortable gravity massage chair. This seat offers an S-track massage system and rollers while the smart body scan automatically detects the size of your body to ensure a custom massage. With a simple touch of a button, you can activate the zero gravity to alleviate the pressure on your back and relieve any back pains.
With an impressive 42 airbags, expect a full body air massage with shoulders, hips, arms, and feet areas all covered. Do not hesitate to adjust the intensity and massage strength and set the time to what works best for you. The manufacturer was keen to make this unit as customizable as can be, so they included an extendable leg rest to fit any body height and an adjustable shoulder width that automatically adjusts to match your size. The built-in heat will be instrumental in easing and relaxing your muscles.
More Features
Offers three pre-set massage programs
Comes with remote control for easy use
Bluetooth connectivity enabled.
#8 BestMassage Zero Gravity Massage Chair Full Body Electric Shiatsu Massage Chair Recliner
By: BestMassage Zero Gravity Massage Chairs
You have always wanted a good quality massage chair that will affirm your love for the pastime pleasure, and now it is right in front of you. This unit is praised for a massive 32 airbags positioned strategically in the arms, shoulder, hips, feet, thighs, and calves. The airbags, coupled with heat therapy and the zero-gravity feature, ensure rapid recovery of muscles and joints increased circulation of blood and reduced pain. Everybody's size is catered for with the Smart body scan technology, which scans and detects your body size and adjusts to a custom body fit massage.
Additionally, there is a built-in sensor that takes the measurement of your spine automatically and massages the right spots. With the six massage modes, you have multiple massage options to play with, including knocking, kneading, air pressure, shiatsu, and tapping. Moreover, 5 pre-set auto massage programs offer diverse massage methods to ensure professional quality massage experience.
More Features
Space-saving technology minimizes the usage of space
Comes with a built-in speaker with Bluetooth connectivity.
#7 Osaki OS-4000 Zero Gravity Executive Fully Body Massage Chair
By: Titan Chair Zero Gravity Massage Chairs
When it comes to the massage chairs, Osaki takes it to another dimension. They have another game-changer in this niche in the name of the Osaki OS-4000 Zero Gravity Executive Fully Body Massage Chair. Fret not about getting bored with the same massage procedures; there are six different pre-set programs to choose from depending on your preference.
You will enjoy switching between 2 stages of zero gravity positioning, so you get what works for you. An intuitive LCD showcases the modes and settings while a wireless remote control makes it a breeze and pleasurable to operate the device. Did we mention the seat offers whole-body air pressure massage for from the foot and hips to the calves and shoulders? To enhance precision and make it convenient when timing the sessions, the company also included a 5-30 minute timer
More Features
Comes with a compact wireless controller
S-track massage robot features included.
#6 Zero Gravity Full-Body Kahuna Massage Chair Recliner LM6800 with Yoga & Heating
BY: Kahuna Zero Gravity Massage Chairs
The hustles and bustles of life demand that you break away from the typical day to day activities and spend some quality time comforting, refreshing, and relaxing at the end of a long busy day to calm your nerves. The well-made massage chair will, without a doubt, ensure that every moment you spend on it is worthwhile.
It comes with three stages zero gravity, which adds to customization, double layers shoulder airbags, and extra foot padding, which means more comfort and effectiveness. The seat also enjoys the bragging rights for offering a particular Yoga program if you fancy full-body stretching. Like other top-quality picks in class, it uses smart body scan technology to detect your body size and deliver a custom fit massage. Also, air massage technology covers the entire body. There six different auto programs to match your needs.
More Features
Comes with a remote holder
Covered by a 3-year warranty
Space-saving technology for small spaces.
#5 2020 Full Body Massage Chair + 3yr Warranty. Electric Zero Gravity Massage Chairs
By: Real Relax Zero Gravity Massage Chairs
The makers managed to meet and far exceed the expectations of its audience with this innovational marvel. It promises a full-body, head to toe massage with the backrest boasting an incredible eight massage points. There are six other airbags over the arms, shoulder, and legs. A heating system ensures perfect blood circulation and safe and comfortable seat temperature.
There are 4 pre-sets auto massage programs with unique massage methods for a customized experience. A high definition of the VFD screen displays settings and modes. The makers also accompany the product with a chair protection plan. Other notable features are roller massage for feet, extended footrest for tall users, vibrate, heat and air squeeze functions, and Pulsed massage for arm sections, among others.
More Features
Buyers enjoy a 3-year warranty
Additional color options available.
#4 Top Performance Kahuna Superior Massage Chair with SL-Track 6 Rollers
By: Kahuna Zero Gravity Massage Chairs
Although sleeping is not recommended while having a massage, you will have real difficulties refusing yourself that luxury when using this top-notch massage chair. Customizability is a quality this pick boasts in abundance. It prides itself on a whopping nine auto programs, including four special programs promising a unique massage experience. You can also switch the air intensity massage between 5 levels.
Not just that, three more inches have been added to the hips and shoulders to accommodate users with tall statures. Besides, six rollers give you the experience of getting a massage from 6 different hands. Worry not if you live in a small apartment with space constraints, this piece features space-saving technology so it will not eat up much space. It may not be the cheapest product in our shortlist, but if you are willing to spend more for extra quality, why not go for the best.
More Features
2-year parts and labor warranty
Includes a revised user-friendly remote controller.
#3 RELAXONCHAIR Zero Gravity Massage Chair – Full massage chair with Built-in Heat and Air Massage System
By: RELAXONCHAIR Zero Gravity Massage Chairs
This unit is a crowd pleaser! Users swear by its top-notch features, best-in-class performance, and elegant looks, to the premier quality materials and solid build. We were impressed by how sufficient the 3 stage ultra zero gravity is at cutting the strain of gravity on the spine to end back pains. There are four automatic massage programs, 3 levels of airbag intensity, and three massage speed control to suit different needs on the market.
Also, the computer body scanning sensor will measure the length of the spine and determine where to massage. Lumbar back heating will relieve your back from fatigue due to poor posture, pain after lifting heavy objects or muscle strain. Not forgetting the beauty hip massager, which is comprised of airbags in areas around the hip and waistline, which align the lower back and pelvic regions.
More Features
Includes a full-size remote controller for smooth operation
Backed by a limited 3-year warranty.
#2 OS-4000 Zero Gravity Massage Chair Upholstery
By: Osaki Zero Gravity Massage Chairs
Osaki continues to cement its dominance in this niche with yet another masterpiece. The company retained most features save for a few notable add-ons. Practical features like computer body scan, full-body air pressure massage, S track ergonomics, and two stages zero gravity positioning among others have lived on with this entry. There are 6 pre-set unique programs and five levels of massage speed and intensity. Besides, hip and lumbar squeeze, auto leg scan, seat vibration, lower back therapy are also features worth investing for.
More Features
It comes with a full size easy to use remote.
Multiple color options available.
#1 RELAXONCHAIR Best Zero Gravity Massage Chair
By: RELAXONCHAIR Zero Gravity Massage Chairs
Ever come across an angler so in love with their zero massage chair? It must have been the RELAXONCHAIR [MK-II Plus] Full Body Zero Gravity Shiatsu Massage Chair. It is hard to beat the 3 stage ultra automatic zero gravity massage in matters of relieving back pains, boosting cardiac health, and relaxation.
The company lets you customize your massage sessions to your specifications with four automatic massage programs, three manual targeted massages, three levels of airbag intensity, and three massage speed control. As you'd expect, computerized body scanning, airbag massage technology, deep tissue massage, full-body stretching, among others, are also offered. We can forget the lower back heating, arm massager, calf and foot massager.
More Features
Full-size remote controller included.
Easy and straightforward installation.
Key Features to consider when buying Zero Gravity Massage Chair
Size and Weight capacity:
Compare the dimensions and weight of the user with the maximum recommended weight that the massage chair can hold. It ensures you to carry out your massage smoothly without compromising your safety and the durability of the chair.
Durability:
The material directly determines the strength of the seat. Ensure the chair is constructed from durable material that will last while also lightweight and easy to move when you need to clean.
Price:
Some zero gravity chairs come more priced than a new car. If cost is an obstacle, you should consider less pricey options in the list rather than going for picks that will cost you an arm or leg.
Final Thoughts
We recommend the RELAXONCHAIR [MK-II Plus] Full Body Zero Gravity Shiatsu Massage Chair with Built-in Heat and Air Massage System – Charcoal because of its effective performance.
Of course, there is limited data on fishing hats. None the less we carried out broad research on the best zero gravity massage chairs available. We are certain that each of the products is built for performance and built to last a lifetime. You only have to choose the one that fits.