Camping or spending time outdoors always gives you unparalleled fun and allows you to explore your hidden talents. The issues faced by many people who are out on camping is that they cannot see properly during nighttime. It is not a good idea to wander outside in the absence of proper lighting conditions. For such situations, the rechargeable Lanterns are the best choice. They not only deliver bright light output but they are also famous for being portable. Due to rugged and weatherproof design, they can stand up to any weather conditions. Their configuration comes with a battery that can be charged multiple times.
Now you can effectively illuminate your surroundings with the help of a decent rechargeable lantern. Whether you want to enjoy camping during the night or want to explore some unknown places in the dark, these are the best lanterns to consider. The ease of portability and excellent illumination are the key aspects to focus on before making a purchase. Moreover, the run time too matters a lot. Keep reading the article below to know more about the best rechargeable lanterns:
Bestseller Rechargeable Lanterns On Amazon:
List of 10 Best Rechargeable Lanterns Review in 2023:
10. Coleman CPX 6 Rugged XL LED Lanterns: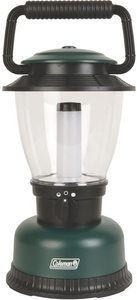 Now illuminate any outdoor trip or place using this easy-to-use and reliable LED lantern. It belongs to the well-known brand –Coleman, so it is highly reliable and efficient in terms of brightness. Due to rugged construction, it is made long-lasting. This model of the camping lantern is famous for emitting light output in 360 degrees. The built-in LEDs never need replacement. Moreover, they do not pose any overheating issues.
Due to the CPX compatibility, this LED lantern can be operated on either four D-cell batteries or a CPX 6 rechargeable power cartridge. There is the availability of two light settings i.e. low and high. In low setting, the brightness is 140 lumens and it is 700 lumens in the high setting. The textured tube decreases glare.
Pros:
Water-resistant structure
Includes four D-cell batteries
Superb runtime per charge
Why We Liked It?
The beam pattern is uniform and free from glare. We admire the IPX4 water-resistant construction that makes this LED lantern work for any outdoor conditions.
9. Coleman Carabineer Classic Personal Size LED Lanterns: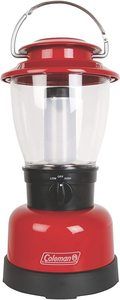 Coleman equipped this LED lantern with replaceable batteries that last a long time. The lumens output is up to 400 in a high setting. The light output is delivered up to 12 meters. The runtime is 30 hours in high setting and 70 hours in the low setting. The light output is sufficiently high to keep any place illuminated properly. You can easily hang from the hooks.
With the inclusion of a handle, you can carry it easily. The IPX4 water resistance construction makes this LED lantern suitable for outdoors. Its operation is powered by 4 D-cell batteries. These batteries do not need replacement.
Pros:
Efficient light output
Can hang easily from the hooks
The replaceable batteries last longer
Why We Liked It?
We liked the powerful rechargeable batteries that do not require replacement. For any kind of outdoor applications, this LED lantern delivers enough brightness.
8. SUBOOS Ultimate Rechargeable LED Lanterns: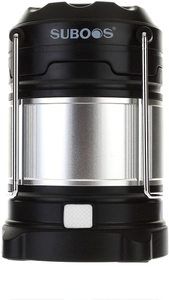 The rechargeable and long run-time are the key specialties of this SUBOOS lantern. Whether you want to go hiking, camping, picnic, or any outdoor applications, this LED lantern is the best choice. Moreover, it works reliably during an emergency. When it is fully charged, it delivers the bright light output for up to 7 hours. There are no hassles of frequent charging.
SUBOOS equipped this LED lantern with 4 lighting modes. You would be never left without power because its configuration comes with a 5200 mAh power bank along with USB charge cable. This kind of configuration allows you to charge any phones, tablets, or other portable devices with the help of a universal micro-USB connection.
Pros:
4 Light Modes
Store & carry easily
Power up with multiple methods
Why We Liked It?
Due to the water-resistant body, this LED lantern can stand up in any outdoor conditions. We liked the smart collapsible design that allows anyone to pack it easily in a bag.
7. Tough Light LED Rechargeable Lanterns: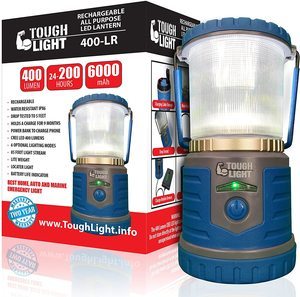 What makes this Tough Light lantern famous is its usefulness during any emergencies. It delivers 400 bright lumens output that keeps any space illuminated for a long period. Whether you are camping outdoors or during any emergency situations, it will not let you down in terms of brightness. The built-in 6000mAh Li-ion battery delivers powerful charging output. This lantern can hold a charge for 9 months or higher while not in use.
When operated in low settings, you get 200 hours of light output. When you are outdoors, you can charge your cell phones and cameras using this lantern. This aspect makes sure this LED lantern is highly useful during emergencies. The water resistance body makes sure it can effectively handle wet conditions.
Pros:
Easy to charge
Can work in wet conditions
Can be used in emergency
Why We Liked It?
We are pleased with the user's convenience while using outdoors and any emergency. The body of this lantern is durable and it is resistant to damage due to the outdoor elements. It is easy to fully charge it.
6. KYNG Rechargeable LED Lantern Brightest Light: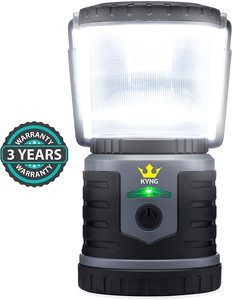 The present model of KYNG rechargeable LED lantern is famous for its versatility. It can be used for hiking, camping, indoor use, or any emergencies. This lantern unit is equipped with a charging bank for your cell phone. You can effortlessly hang it in the form of an overhead light inside your tent. The built-in battery comes with powerful capacity of 6000 mAh. It makes sure the battery lasts for up to 250 hours through a single charge. For charging, a USB cable and a wall plug are included.
Due to durable construction, this lantern unit is built to withstand the elements. The IPX-6 rated structure makes it capable to withstand any weather conditions. Moreover, it is drop-tested from 6 feet in height. This device comes with white / red light modes.
Pros:
Multi-functional lantern
Can withstand any type of weather conditions
Supports white/red light modes
Why We Liked It?
For a wide range of outdoor applications and emergency situations, this rechargeable LED lantern is a decent choice. To combat power outages issues, you can store one in your house.
5. Wsky Rechargeable Camping Lanterns Flashlight: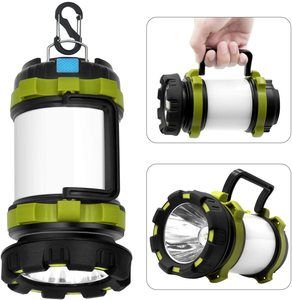 The multiple lighting modes and multifunctional operation make this camping lantern unique in the market. It comes with 6 lighting modes that you can use according to the needs. All these modes are easy to adjust by a single button. Due to the 360° rotational capability, this flashlight is ideal for camping, hiking, exploring, and tons of other outdoor applications. The strobe red light makes it ideal for emergencies.
With the availability of a handle and a two-way hook, it can be easily carried along or hang from everywhere. The compact and lightweight build enhances user convenience.
Pros:
Supports 6 lighting modes
Superb portability
Includes Red Warning & SOS
Why We Liked It?
We liked the rubber structure design that works well to resist water. This Wsky flashlight can work as a power bank for smartphone or other portable devices.
4. LE LED Camping Lanterns Rechargeable, 1000LM: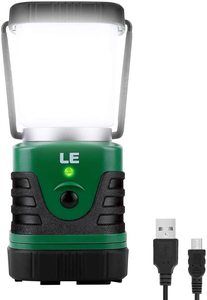 When you are in the hunt for an easy-to-use and portable lantern for outdoors, go for this LED lantern. It provides 1000 lumens output that effectively illuminates any space. At the base and top, one hook is present. It allows you to hang easily anywhere. With 1000 lumens and 360-degree beam angle, this camping lantern gives off bright light output.
Due to IP44 grade body construction, this LE LED lantern is ideal for outdoor activities. The integrated battery comes with 4400 mAh battery capacity. It lasts charging for up to 12 hours.
Pros:
4 lighting modes
IP44 water resistance
Brightest light output
Why We Liked It?
It is easy to adjust brightness f this camping lantern. This unit works perfectly for indoors, outdoors, and any emergency situations. According to your needs, you can hang it.
3. SUBOOS Ultimate Rechargeable LED Lantern: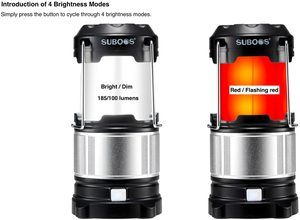 Due to rechargeable operation and long run time, you can confidently enjoy outdoor fun with the help of this rechargeable LED lantern. When you charge it to full state, you can enjoy its brightest light output for up to 7 hours. There is the presence of 4 lighting modes. You are never left without power. This is because the lantern can work as a 5200 mAh power bank with the USB charge cable.
Pros:
IPX5 water-resistant withstands outdoor elements
Prepared in a collapsible design
Comes with 4 lighting modes
Why We Liked It?
In any outdoor conditions, you can reliably use this SUBOOS rechargeable lantern. We liked its collapsible design and different lighting modes.
2. TANSOREN Portable LED Camping Lantern:

This model of portable lantern makes sure you always have the light with you anytime. The integrated rechargeable batteries and the solar panel makes its operation highly efficient. You can either power it through solar energy or 5V DC USB charging or via the 3 AA battery. The included USB port enables you to charge your mobile phone.
Pros:
Collapsible design
Multi-Functional lantern for home and outdoors
Energy-saving and longer lifespan
Why We Liked It?
Due to 360-degree light output, you can fully illuminate any space. This device is very convenient for camping, hiking, storms, fishing, hurricanes, car emergency, power outages, etc. It comes with an energy-saving feature.
1. LE LED Camping Lantern Rechargeable, 600LM: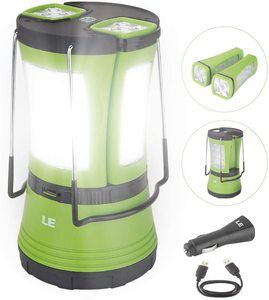 This lantern flashlight delivers 600 lumens output with a 360-degree beam angle. So, you always get enough brightness at the output. The IPX4 water-resistant construction protects its body from splash water. With the availability of handles and integrated compass, this lantern is suitable for a wide range of outdoor activities. It can be fully charged in 4-5 hours.
Pros:
Powerful charging output
Bright light output
Water-resistant structure
Why We Liked It?
We admire its portability, so it can be carried anywhere. This rechargeable camping light can save energy and work well during emergencies.
Key to consider for the best rechargeable lanterns:
When you consider the aspects discussed below, you will be able to make the best buying decision for the rechargeable lanterns:
Brightness:
The most important thing to consider is the brightness at the output of the rechargeable lantern. It is usually measured in lumens. The lumen output in the range from 100 to 200 per lantern is considered sufficient for illuminating any space. For larger space, you need to consider lumen output in a range from 200 to 400 lumens. The majority of the rechargeable lanterns come with high and low settings.
Power source:
The source of power indirectly determines brightness and runtime. Depending on the type of rechargeable lantern you choose, the source of power may vary. The solar-powered lanterns don't last as much as the gas-powered ones. This is because they require recurrent recharging. However, they perform well if they are exposed under direct sunlight for long hours.
There are four major sources of power for lanterns. They are gas, solar, battery, and electricity. The battery-powered lamps are usually the best choices because they can be easily plugged into a source of power and supplied with charging power
Run time:
The next important factor to keep in mind is the run-time. It denotes the amount of time a battery would run after a single charge. Based on the energy settings for your lantern, you may get longer times. If you use the lantern for the whole night then the battery would be drained quite rapidly. Depending on the amount of time you intend to use the rechargeable lantern, you can consider the run time.
Durability:
For frequent outdoor use, go for rugged and weatherproof rechargeable lanterns. When exposed to different weather elements, the durable lantern will not crack or break easily. Make sure the material used in manufacturing is a hard plastic that boasts long-lasting use.
Concluding Note:
Once you choose the appropriate rechargeable lantern, you are benefitted with enough illumination. For indoors, outdoors, or any emergencies, these are the best lanterns to consider. You can recharge it multiple times.