Take the best inflatable sofa to the beach or park and enjoy a comfortable lounging. It has a wide area to fit your body perfectly when napping, sitting, or relaxing. The following are the best inflatable sofas in 2023.
List of 10 Best Inflatable Sofas Review in 2023:
#10 US Lounger Fast Inflatable Portable Outdoor or Indoor Wind Bed Lounger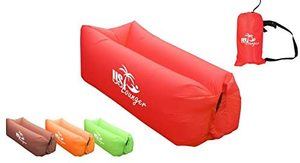 By: US Lounger
This sofa is perfect for outdoors and indoors. It has a superior structure that allows you to use it at the beach, picnic, home, or park to relax. What's more, inflation is ultra-fast to promote immediate use. After taking it out, swing against the wind for it to catch the air. This process helps it to firm up in seconds to save valuable time. Plus, the video instructions give you more directions to aid in the setup.
Engineered from robust nylon, the exterior is ultra-durable. Also, it won't puncture quickly when exposed to different atmospheres. With an interior plastic bladder, it enhances airtightness and water resistance. That means this lounger doubles as a useful recliner in the ocean or pool. Furthermore, it carries 375 pounds of load perfectly thanks to its quality built. And the wide style measures 6ft 5″ long by 4ft high by 3ft 2″ wide when inflated. Note when deflated, this air bed is 15 inches long by 7 inches high with a 3-inch width.
Reasons To Buy:
Ideal for camping, beach, home, park, etc
The generous size is ultra cozy and strong
Can carry a massive load of 375 pounds easily
#9 Intex Inflatable Empire Chair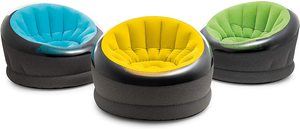 By: Intex
Colors and style can brighten your life when lounging. This chair comes in exciting shades, including yellow, green, and blue. Simply choose the tone that meets your personality, indoor, and decor needs. Also, it's designed from advanced plastic that offers a sturdy and extended service. You can wipe the surface with a wet towel or brush for quick removal of dirt. Plus, the sizable structure of this couch measures 27 inches high by 44 inches wide with a 43-inch length.
What's more, this unit is designed by Intex for indoor and outdoor use. Take it to the park, beach, picnic site, camping ground, and other locations. Moreover, its sturdy material can bear most pressures without puncturing. And for more strength, it has a 2-ply reinforced lamination on the sidewall and bottom. You can fill the base chamber with water to keep this product anchored and secure.
Reasons To Buy:
Comes in 3 exciting colors including blue and yellow
The reinforced lamination adds strength to the sidewall and base
Easy to fill the bottom chamber with water for stability
#8 OMG Plus Ocean Inflatable Chair – Inflatable Sofa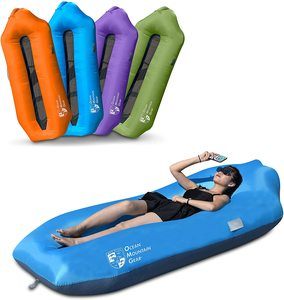 By: OMG Plus Inflatable Sofa
The OMG Plus gives you easy access to your valuables when lounging. It has pockets for keeping water bottles, phone, or keys. Also, a more extensive and stable base enhances stability and relaxation levels. This couch comes with a safety strap that attaches to the ground firmly. In addition, the design inflates quickly when at the park, camping site, and more outdoor locations. And the fully inflated structure carries a large load if 440 pounds suitable for couples or friends.
Create a plush and supportive lounger in most places with this chair. It is rugged enough for amazing waterproof abilities. Also, it floats over waves effortlessly to enhance your lounging experience at the beach. Sunbathing at the lawn or sleeping over the sand at your preferred time is easy. Moreover, it weighs 1.8 pounds for a travel-friendly use as the frame packs away quickly. Keep this chair on a beach tote for comfortable transportation. Furthermore, the breathable mesh center prevents sweating as it dissipates heat effectively.
Reasons To Buy:
Has easy to access pockets for water bottles, keys
Supports a comfortable sunbathing experience at the lawn
The breathable mesh center prevents sweating
#7 Intex Inflatable Ultra Lounge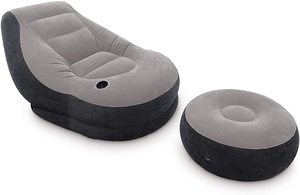 By: Intex Inflatable Sofa
This lounge set has a convenient ottoman to add support and comfortability. It has the same style as the couch for a seamless look. Also, the durability of this item is enhanced with the 20.8 gauge vinyl. And it won't puncture for longlasting use as it delivers a soft skin feel. What's more, the flocked tops are waterproof as well as the base and sides.
In addition, the valve system of this chair offers a double functionality. It lets you you fill and emit air depending on preferences. Moreover, the included cup holders are stable enough to keep refreshments secure. After a relaxing lounging, just fold this item quickly and throw in a tote bag or at the car trunk. Plus, it's multipurpose for camping, tailgating, picnic, or at the house. Measuring 39 "W by 30 "H by 51 "D, this accessory has a 7lb weight. It bears up to 220 pounds of load, making it ideal for kids, adults, and teens.
Reasons To Buy:
The included ottoman offers additional leg support and coziness
Comes with high-quality cup holders for secure drinks mounting
Its 7lb weight carries a 220lb load perfectly
#6 Intex Pull-Out Chair Inflatable Bed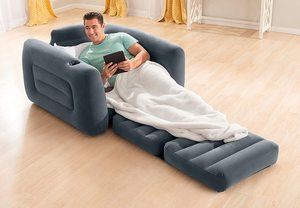 By: Intex
The 2 valves of this inflatable chair offer quick inflation and deflation. They make sure the process is seamless to minimize effort and time wastage. Besides, it is large enough to keep you cozy and secure for many hours.
This item is engineered from robust plastic for long service life. Also, the gray color, it looks well in many areas like the backyard, park, and much more. With a velvety surface, you are guaranteed fantastic smoothness,
Reasons To Buy:
Has 2 valves for quick inflation
The charcoal grey color is appealing
For many areas like the beach, park
#5 Chillbo Shwaggins Inflatable Sofa Couch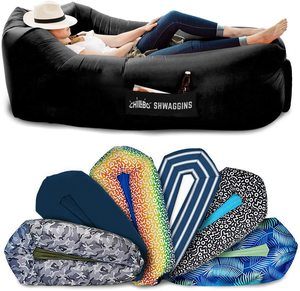 www.amazon.com/dp/B07YS7KDQV
By: Chillbo
Wondering what gift to buy your friend or family who loves the outdoors? Worry no more because this couch provides a comfortable and reliable resting area. Also, it has an appealing design that comes in handy for hikers, campers, outdoor lovers, and more people. Choose a shade from the 12 patterns and enjoy a stylish lounging anytime. Besides, it's a perfect travel companion at the beach, tailgating, camping, backyard, park, and more. And the anchor loops, stake this sofa down to keep it stabilized and firm at one place.
Additionally, the large side pockets of this portable hammock hold magazines, books, snacks, glasses, beer, drinks, and other stuff. Simply watch the instructional video to blow up this unit quickly when needed without using an air pump. What's more, it weighs 3 pounds but expands to accommodate 3 people with an overall weight of 440 pounds. And it fits in its superior carrying bag for a comfortable carry with the shoulder strap.
Reasons To Buy:
Has over 12 funky patterns suitable as an outdoor gift
The side pockets are large to hold beer, drink, books, etc
Carries 3 people at once weighing under 440 pounds
#4 Intex Pull-Out Sofas Inflatable Bed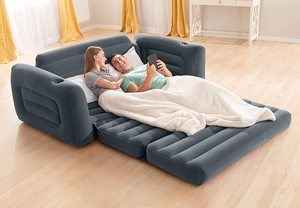 By: Intex Inflatable Sofas
Carrying your drinks with the hands needs more attentiveness when lounging. With this pull-out sofa, it boasts of two cup holders to secure the refreshments correctly. Besides, it minimizes hand use to leave them free for an extended time. With a charcoal grey surface, you can easily coordinate the color with most indoor decor. Plus, the cover has a smooth velvety feel for additional coziness when needed. This lounger boasts a dual-functionality valve for fast deflation and inflation. It features extra-wide openings to make the firming process quicker and smoother.
Fold this inflatable bed easily when storing in a small area such as a car's trunk. Also, in its inflated space, it measures 80 inches long by 26 inches tall with 88-inch width. This room is enough for multiple persons to rest, lounge, sit, nap, and much more.
Reasons To Buy:
Has well-made cup holders for holding drinks safely
The charcoal grey surface us eye-catching and easy to maintain
Folds into a small profile for seamless and compact storage
#3 Intex Inflatable Corner Sofas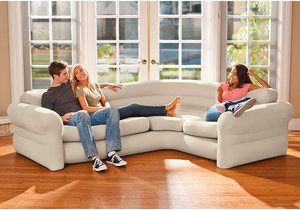 By: Intex Inflatable Sofa
What makes this corner sofa among the popular ones is its superior size. Boasting a significant dimension of 30 inches high by 101 inches long by 80 inches wide, it accommodates several individuals at once. Also, your friends, family, and others can relax while viewing the surroundings. Note that this sofa measures 21.3 inches long by 17 inches tall by 9.6 inches wide when deflated for safe carry. Whether you put it inside a tote bag or the back of the car trunk, it consumes minimal space. In addition, the lovely tan color stands out for added beauty and decorative elements.
Moreover, the seat depth of this lounger is 0.39 inches for extra comfort as you sit. Also, no assembly is needed when using this unit which is ideal for new consumers. You can clean the waterproof flocked surface at the top quickly to remove any debris presence. Not only that but also a premium vinyl bottom provides a comfortable resting area on any occasion. Make sure you don't exceed 880 pounds when enjoying the outdoor views with your friends.
Reasons To Buy:
It has a superior and large size to carry multiple persons
The tan finish is easy to coordinate with the existing style
Holds a maximum weight of 880 pounds
#2 Intex Pull-out Sofas Inflatable Bed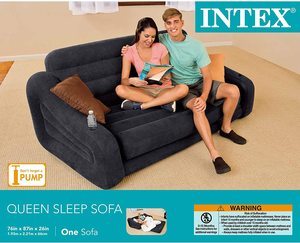 By: Intex Inflatable Sofas
This is a queen size inflatable bed that measures 76 inches long by 26 inches high with an 87-inch wide. It allows two people to sleep or sit at the same time for maximum versatility. Also, after an exciting camping day, you can lounge and rest your body effortlessly. This item is well-made using premium material that beats different humidities, temperatures, and locations seamlessly. Besides, these factors will affect the firmness and performance for extended use. When you use this accessory for several days, you need to reinflate it to help maintain its increased style.
The beams act as bulges to prevent falling when napping. They add extra protection to keep you or your family safe when enjoying the scenes. What's more, the built-in pillows at the side keep your upper back comfortable for long. And inflating takes little time thanks to the two valves for removal and entry of air. Upon deflating, this sofa retracts compactly for straightforward travel and storage.
Reasons To Buy:
It has an ample and premium space to hold 2 people comfortably
The beams add protection against falling and sliding
Easily folds for straightforward travel and little space consumption
#1 Wekapo Inflatable Sofas Lounger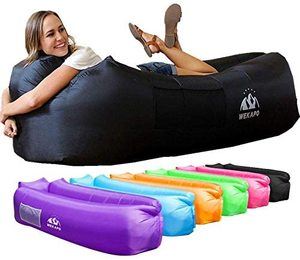 By: Wekapo Inflatable Sofas
Some inflatable loungers need an electric pump to fill it up. Fortunately, the Wekapo doesn't use this gadget to firm it when you whisk it through the air. What's more, closing the sleeve before starting to whisk helps trap air to make this item firm for long. And the pillow-shaped headrest looks more appealing than others to offer you additional support. In addition, it keeps the upper back cozy when you nap, relax, watch the view, and much more.
Furthermore, this air bed boasts a modern anti-deflation technology to leave it inflated between 5 to 6 hours. Not only that but also this prevents frequent air refills for comfortable consumer experience. With a carry tote, keep this lounger safely when transporting to the desired area. Plus, the stake offers maximum strength to prevent movements as you chill with friends at the camping site, picnic area, beach, travel locations, music festivals, lakeside, backyard, and much more.
Reasons To Buy:
Doesn't need a pricey electric air pump to inflate
The pillow-shaped headrest keeps the upper back supported
For multiple areas such as the lakeside, backyard, beach, etc.
Key Features To Consider For The Best Inflatable Sofas:
Size
Can the lounger accommodate more than one person? Check the dimensions to know how many people can relax comfortably at the same tie.
Material
Most of the best inflatable sofas are made from premium and waterproof material. This allows the user to enjoy a safe outdoor relaxing for a long period.
Verdict:
Using the best inflatable sofas helps you to relax without any discomforts. It is cozy and longlasting than most air loungers. Plus, the best inflatable sofas are comfortable to inflate, setup, and store.