Floating water mats are in trend. You will see adults, teens, and kids having fun with them. Some will prefer to simply sit or lie on them while others will try to float around with the play accessory. There are those who don't mind shoving their fellow playmates into the water. Whichever, the preference, one undeniable fact is that they do come with lots of fun and excitement. Nonetheless, all items arent made in the same fashion. You will find some large, others small, some very colorful, others a bit dull. Other variables include the weight capacity, appearance, buoyancy, durability and much more. In the top 12 best floating water mats in 2019 review, we will show you the most popular options.
List of Best Floating Water Mats in 2019 Review
#12.WaterMat plus Floating Mat 6 ft by 20 ft by 2 in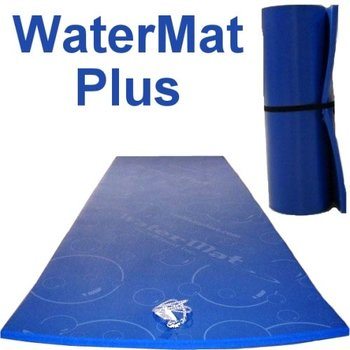 Features
Blue with white bubbles style
Made from waterproof foam
Measures 6(W) x 20(L) feet
2-inches thick
slippery on both sides
no maintenance required
You and your family or spouse will have some fun with this floating mat. It comes in a nice trendy design and will look okay in many settings. The size is pretty good to accommodate several users at the same time. We love the nice buoyancy that keeps you afloat. It won't sink even after being punctured. The surface is waterproof to ensure it doesn't soak in water. This helps to t keeps it afloat. It has a nice thickness to keep you off the water. Moreover, the two sides are super smooth and feel cozy on the skin.  It's easy to maintain and you simply need to hose it with water and then wait for it to dry.
#11. Goplus Floating Water Mat, (12′ x 6′) Tear-Resistant XPE Foam-Durable and Bouncy Material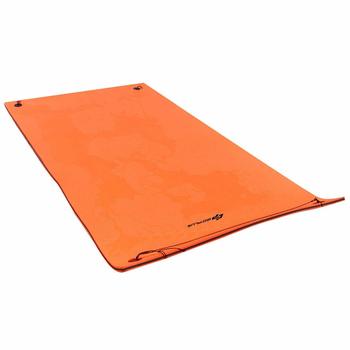 Features:
Measures 12(L) x 6(W) feet
Comprises of three-layers of foam
Tear-resistant XPE foam
environmentally friendly material
odorless, safe, bouncy and smooth surface
Easy roll-up design
Has a 149-inch binding yarn
With this mat, playing in the water will be more fun. We like how cool it looks. This is due to the cool styling and nice color. It's made from superior foam which gives it good buoyancy. It should support several users without a problem. The play accessory is ideal for adults, teens, and kids. It's easy to play with and comes in a practical size. The unit comes ready to use and you simply unwrap it and toss it in water. The smooth surface feels cozy to the skin. It won't stick or feel rough.  It won't be affected by water and also lasts for a long time.
#10. Popsport Lily Float Foam Island, Floating Water Mat for Adults and Kids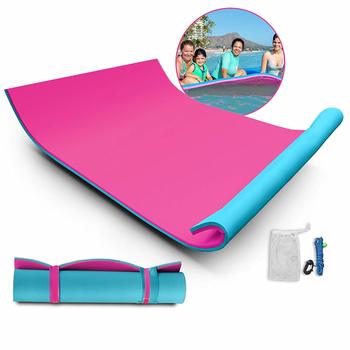 Features:
Available in pink color
Comprises high-density foam
1.3-inch thickness
Special surface treatment to reduce wearing and scraping;
Tear-resistant nylon inner matrix
If you and your family or friends love water games, you should think of this water mat. It floats on water to offer you good support while on water. The good size suits it for many swimming pools, lakes, and other water bodies. It also has a nice thickness and buoyancy to keep the users afloat. The accessory comprises tough foam which is resistant to tearing or ripping. It also maintains its buoyancy and should last for a long time. We love the colorful nature which enhances the ambiance in and around the pool. Moreover, it's easy and simple to clean and maintain.
#9. Floating Oasis Lake Pad – Floating Water Mat Island – Made in the USA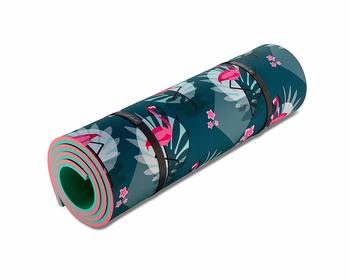 Features:
Comes in Pink/Turquoise colors
Measures 180″ long x 72″ wide x 1.5″ thick,
Handles over 1,500 lbs. of weight
tear and puncture-resistant material
Comprises multi-layered polyethylene (PE) foam
This is among the best floating water mats in the scene. It has a nice size to handle several people. It's also versatile and can be used by adults and kids. It is also appropriate for different kinds of pools. The high-grade foam can handle heavy loads well. It won't sink into the water or get soaked or soggy. Besides, it has a nice thickness to keep everyone on it out of water. It glides smoothly on the water courtesy of the smooth and streamlined nature. Once done with it, you simply hose with clean water. It dries fast and is also long-lasting.
#8. Rosso Water Floating Fortress – Floating Water Foam Pad Mat, 18x 6ft, For Boating, Lake, Ocean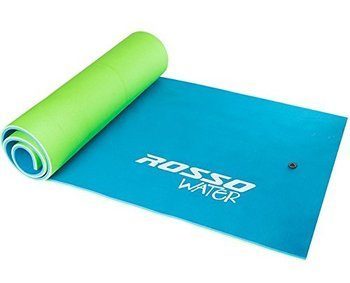 Features:
Dimension of 18 ft. by 6 ft
weight capacity of 1,200 pounds
Can support up to 8 people
Made from tear-resistant and durable foam
Includes 12ft bungee cord and Velcro storage straps
Features high-grade 2-ply closed cell
 1 3/8-inch thick foam
Suitable for the lakes, rivers, pools, oceans and more
Measuring 18 feet long by 6 feet wide, this floating mat is among the large pieces out there. It can handle as many as 8 people without a problem. The weight capacity stands at 12, 00 pounds. This is pretty impressive. It's a sturdy unit and will resist tear, wear, and fading. It will maintain its nice looks and buoyancy for a long time. The accessory is ideal in many areas. These include the swimming pool, lake, river as well as the ocean. The rollable nature improves the carrying and storage. You also get a bungee cord and Velcro straps to secure it during the transportation or storage.
 #7.  Premium Floating Pool Island Mat– Floating Oasis Lake Pad Feet '15 x' 6 Blue Red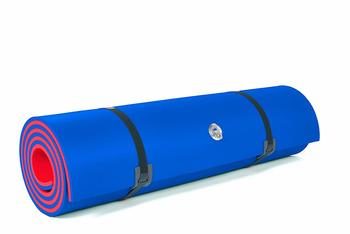 Features:
Blue/Red color
Measures 15(L) x 6(W) feet
Made of premium high-density foam
Suitable for the pool, river, lake, and sea
Comprises tear resist and curable PE foam
Easy-to-roll and carry styling
If you want dependable and durable floating water mat, you'll find this island mat a worthy choice. It has a good size to accommodate a number of people at once. It also has a nice thickness to keep the users afloat. The unit comprises of high-density foam to provide a good buoyancy and bounce. It's resistant to tear, wear, ripping and fading. It will, therefore, maintain its integrity and nice color for a long time. Like other types, it's very easy to use. And after use, you simply roll it down to a more manageable and carry-friendly size.
#6. Wow World of Watersports Floating Inflatable Water Walkway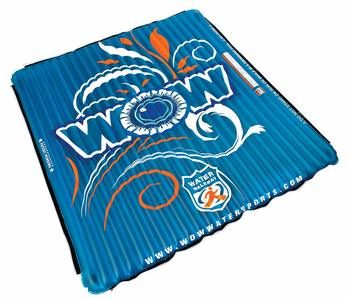 Features:
Comes in blue color
Measures 6 x 6 Feet
Walking island design
Grommets on each end for easy tying
Made from heavy-duty PVC construction
Will support up to 6 adults
Easy clean and dries fast
This floating mat is what you and your family need to have some fun with. It features a beautiful, trendy design and looks all right in a lot of environments. The size is great enough to accommodate a few users at the same moment.  The good buoyancy keeps you afloat, and Even after being punctured, it won't sink. The waterproof nature ensures that it is not soaked in water. This helps to keep it afloat. It's got a good thickness to keep the people out of the water. In addition, the two sides are extremely soft and smooth and feel comfortable. It's simple to clean and dries fast.
#5. Big Joe 2050ABDS Water pad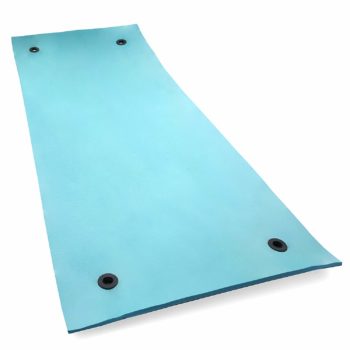 Features:
Made from EVA Foam
Measures 15(L) X 6(W) feet
Has a thickness of 1. 2 inches
Easy roll-up design for convenient storage
Can hold up to 4 adults
Built-in grommets for convenient anchoring
Playing in the pool, lake or river will be more enjoyable with this floating water mat. We like how good it looks. It's because of the trendy design and beautiful color. It's produced of high-grade EVA foam, which provides it excellent buoyancy. It should support as many as 4 adults without any problems. It's simple to play with and comes in a convenient size. The soft and smooth finish feels cozy and won't irritate the skin. It also doesn't have a sticky or rough feel. It rolls down to a smaller size easily for convenient storage.
#4. Maui Mat Floating Foam Pad for Recreation and Water Recreation (6 x14ft)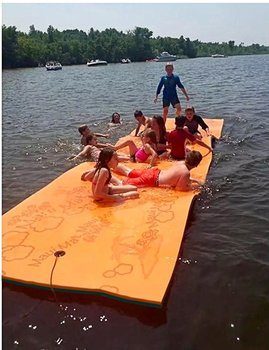 Features:
Measures 6 feet x 14 feet
Maximum Weight capacity of 1,000 pounds
specially designed 2-layer cross-linked deign
Made from high-grade foam
Features patented FlexCore Technology
1-3/8 inches thick
Weighs 25 pounds
You, your family or friends will this floating water mat quite nice. The unit measures 14 x 6 feet and will handle up to 1000 pounds.  It is fit for the pool, lake, and river and comes in a practical size and weight. The thickness is good and so is the buoyancy. It's made of high-density foam that is resistant to ripping and tearing. It also retains its buoyancy and should serve you well for a long time. We enjoy the colorful nature that boosts the atmosphere around the pool, lake, and river or even at the seam
#3. FloatDaddy 3-Ply Foam Pool Lake Swim Mat (6 x 16) Super Island Cyan/Blue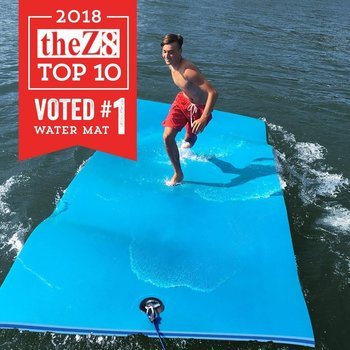 Features:
Measures 6 x16 feet
Has 3 layers of high-density foam
features UV-stable coloring
Reinforcement with a poly layer
Rust-resistant D-Rings (stainless steel)
includes carabiner clips and 5ft bungee cord
This is one of the finest floating water mats in the market. Its good size of 6 x 14 feet will manage a few individuals. It can be used by adults and children and in pools, lakes, and rivers the High-grade foam can manage heavy loads well while the good buoyancy keeps the users afloat. The good thickness works great while the smooth finish makes it glide smoothly on the water. The stainless-steel D-Rings offer a nice mounting location. In addition, it features several carabineer clips and a 5ft bungee cord for trying it up after use. It's easy to clean and also quick-drying.
#2. Texas Recreation Sunray Pool Foam Floating Mattress, 1.25″ Thick, Bahama Blue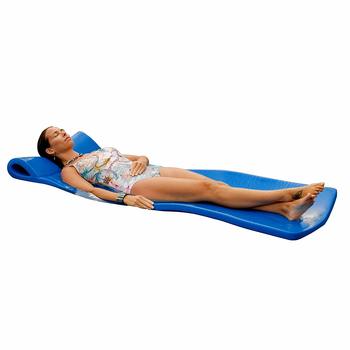 Features:
Dimension of 70" L x 26" Feet
1.25 inches thick
Bahama blue color
High-quality, durable
 Vinyl-coated foam
The full-roll pillow
Hand-made in the U.S.A.
This floating mat measures 70 (L) x 26(W) inches. It can manage several individuals without any problems. The unit is 1.25 inches thick and feels well built and sturdy. It's going to withstand tears, regular use, wear, wet environment, rolling, unrolling, fading and more. We love the vinyl coating for enhancing the sturdiness and waterproof nature. It's going to keep its lovely looks and reliability l for a long time. In many scions, the accessory is perfect. These include the swimming pool, the lake, and the river. You also get a full-roll pillow for extra comfort and convenience. The easy Rolling nature improves portability.
#1. Rubber Dockie Duckling Floating Mat, 9×6-Feet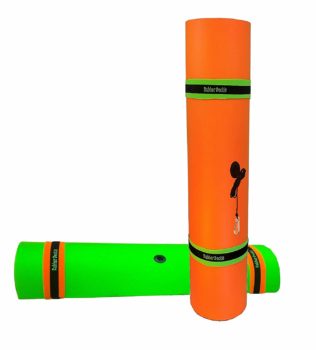 By: Rubber Dockie
Features:
Dimension of 9×6 feet
Tear-Stop Inner Matrix
TUFF-hide outer layer
12 feet elastic bungee tether
Custom hooks and loops with metal buckles
If a reliable and versatile is what you want, you'll love this piece. The good size will accommodate several people well. It has a good thickness and bounce for maximum fun. The high-density foam handles the pressure, vibration, movements and other things well. It's resistant to ripping, fading, tear, wear, and requires minimal maintenance. It's very easy to use and take care of and doesn't fade easily. Moreover, it's compact, lightweight carry-friendly size.
Conclusion
If you love fun while in the pool, then a floating water mat is a good accessory. You can lie or sit on it, try to float around with it, or even avoid being tossed off it by somebody lees. There are many good products on the market. However, without the right information, you may end up buying a not so good product. In this review, we have looked at the top 12 best floating water mats in 2019. Our main focus was on quality, durability, reliability, effectiveness, size, comfort, safety and affordability. With any of the above products, you, your spouse, family or friends will certainly have some amazing time.