Professionals and DIYers alike will appreciate how a decent quality power tool, such as the Dremel Multi Max, can help with virtually any domestic work that involves the use of plastic, wood, or other appropriate materials. Multi-use tools, for example, can effectively sand, cut, or even grind activities that previously required the use of many tools.
Oscillating power tools are designed to rotate an accessory of your choosing in a high-speed rotation to expertly and accurately complete the task you require for your projects. This is because many, if not all, of these tools contain flexible capabilities that allow you to program them to operate under very particular conditions. Also worth noting is that Dremel is an undisputed leader among the best power tool brands. Here are the ten greatest Dremel tools in 2023 to help you get the best deal. Continue reading.
List Of 10 Best Dremel Tools in 2023 Reviews:
10. Dremel MM30-04 Multi-Max Oscillating Tool Kit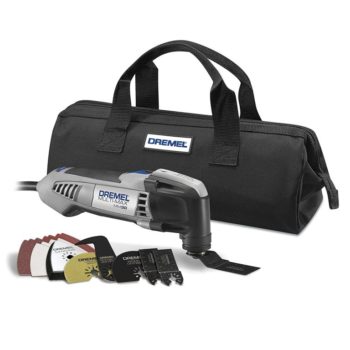 We'll start with the Dremel Multi-Max MM30-04 oscillating power tool, which has a powerful 3.3-amp motor. Its extra-wide 3.2-degree oscillation angle places it among the industry's most powerful, effective, and rapid models.
The MM30-40 also boasts an integrated quick-release wrench mechanism that allows for tool-free accessory changes without the use of an extra wrench. Another highlight is variable speed, which provides excellent performance adaptability and control in a variety of materials for a variety of applications. The unit's ergonomic soft-grip offers handling comfort and control, while the separate on and off switch makes it easier to operate while keeping the speed setting.
9. Dremel VC60-01 Ultimate Remodeling Tool Kit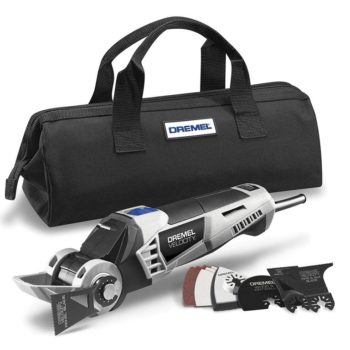 Try the Dremel VC60-01 if you're looking for the ultimate power tool for your home renovation needs. It's a hyper-oscillating tool kit with a powerful 7.0 amp motor that can handle even the toughest jobs. The hyper-speed and precision settings give ideal performance in various tasks and materials, giving the user more freedom and control.
It has a 5-degree oscillation tilt and a unique driving technology that allows for faster cutting. An incorporated control foot guides precise, long cuts, while useful quick-release features make accessory changes simple, quick, and tool-free.
8. Dremel CKDR-02 Ultimate 3-Tool Combo Kit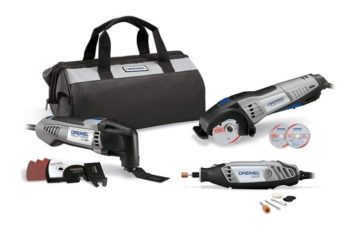 The Dremel CKDR-02 Ultimate is an excellent choice for both rotary newbies and seasoned DIY home improvement enthusiasts. It's a three-tool combo package with everything you'll need to remodel, repair, cut, rout, sand, and restore, among other things. You'll be able to multi-task successfully at the shop or at home thanks to the variable speed Dremel 3000 rotary tool, the Saw-Max cutting tool, and the Multi-Max MM20 oscillation tool.
This kit also contains a convenient, soft storage bag as well as a total of 15 changing accessories that are simple and quick to use thanks to an EZ Twist Nose Cap wrench. The device is lightweight and ergonomically engineered for long periods of operation without fatigue.
7. Dremel US40-03 Ultra-Saw Tool Kit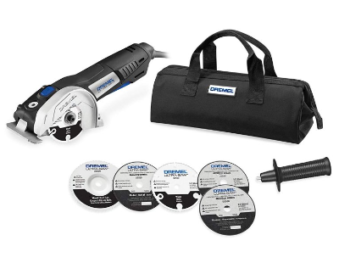 The US40-03 Ultra-Saw from Dremel was created for folks who want a power tool that can do everything the Dremel Saw Max does and more. The US40-03 has a powerful 7.5 amp motor and a heavy-duty drive system that provides more power for making rapid and precise long cuts. The heat generated during larger projects such as cutting or grinding metal is dissipated by the integrated metal foot and protection.
The compact circular saw's massive 3.5-inch and 4-inch cutting wheels allow it to cut quickly and efficiently through a variety of materials. Furthermore, the Ultra-special Saw's accessories offer it the capacity to undertake other surface preparation tasks such as paint, rust, and thin-set mortar removal.
6. Dremel 4300-5/40 High-Performance Rotary Tool Kit 2
This is the first of Dremel's rotary tools that incorporate the 3-jaw chuck while allowing tool-free, collet-less accessory replacements. This chunk is compatible with any Dremel attachment shank size, allowing for quick and easy accessory swaps without the use of a wrench. Because this light pivots to direct the illumination where you need it, you get a well-lit project with an optimal sight line when you use an inventive Pivot Light.
Thanks to its exemplary strong motor that blends variable speed and electrical technology, the 4300-5/40 makes it easier than ever to enjoy the full variety of outstanding Dremel rotary tool applications. Furthermore, its small profile and ergonomic design provide a comfortable 360-degree grip field for extended use and less strain. This Dremel 4300 operates quietly and smoothly thanks to an upgraded airflow system design, making it even more convenient.
5. Dremel MM40-05 Multi-Max Oscillating Tool Kit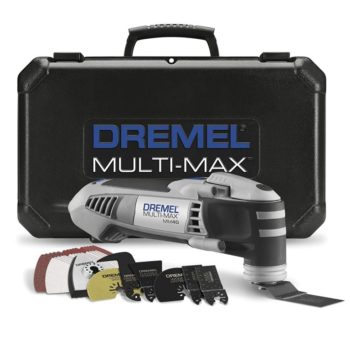 The Dremel MM40-05 Multi-Max comes with a high-performance 3.8-amp motor that can handle even the most demanding applications. It has a Quick-Lock feature that allows for tool-free and secure accessory changes; a Quick-Boost feature that keeps speed consistent even when working with the toughest project materials and applications; and a Quick-Hold feature that uses a magnetic flange to keep the accessory in place for easier, more convenient accessory changes.
An up-front On/Off switch allows for single-handed operation while also maintaining speed settings for consistent performance.
4. Dremel 3000-1/25 Variable Speed Rotary Tool Kit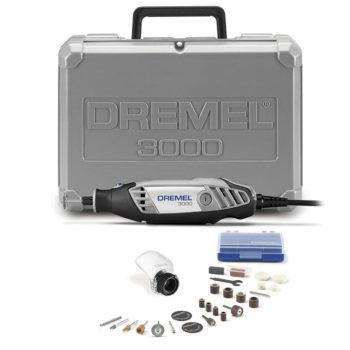 The Dremel 3000-1/25 is a thoughtful, inventive upgrade to one of Dremel's most well-known rotary tool models, now with user-requested capabilities and improved ergonomics and design. It also has a functional EZ Twist nose cap with an integrated wrench that acts as a wrench for tightening accessories while also removing the need for an external wrench.
A cooler operating tool is provided by more efficient side vents and fan design, making it more pleasant and viable for extended periods of usage. For example, the tool's symmetrical design with a trumpet-shaped nose tip makes it easier to grasp in a pencil grip for precision work. The 3000-1/25 is perfect for a wide range of jobs, including grinding, cutting, carving, sanding, and polishing various materials, because it can use all existing Dremel rotary tool accessories as well as most other attachments. 25 accessories, one attachment, and a convenient carrying/storage bag are included in the kit.
3. Dremel 4000-4/34 High-Performance Rotary Tool Kit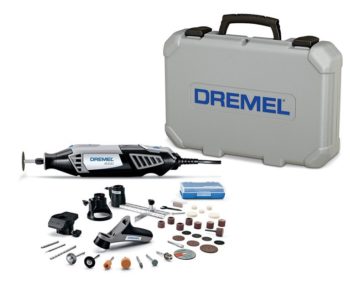 The 4000-4/34 model is another Dremel variable speed rotary tool that provides the most consistent and versatile performance of any Dremel. The unit's enhanced motor strength, as well as its electrical feedback circuitry, ensures consistent performance at any speed.
This tool is compatible with all Dremel rotary tool accessories and attachments, allowing you to complete any project. Its small profile and ergonomic body design provide a 360-degree comfortable grip zone for maximum control and comfort in any angle or position. To help you get the most out of this Dremel 4000, it comes with four attachments and 34 accessories.
2. Dremel 4000-6/50 120-Volt Variable-Speed Rotary Tool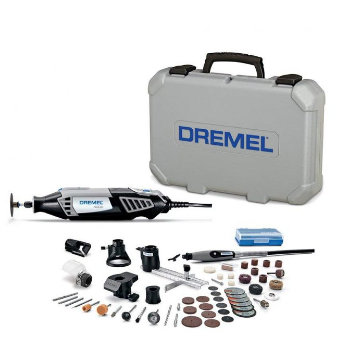 The 6/50 is a dependable 120-Volt, 1.6 amp adjustable speed rotary tool from the Dremel 4000 series, and one of the finest performing and most adaptable tools in this category. It has a motor that is designed for improved strength, and it has an integrated electrical feedback circuitry that ensures consistent performance at all speeds.
It has a thin and ergonomic body design, similar to its sister model, that allows for a 360-degree grip area for enhanced comfort and control in all postures. A separate On/Off switch, as well as a variable-speed dial, make speed modifications simple and convenient, while also maintaining the established speed for adaptable and exact performance delivery. This tool is also compatible with all Dremel accessories thanks to the included EZ Twist nose cap wrench.
1. Dremel 7700-1/15 MultiPro Cordless Rotary Tool Kit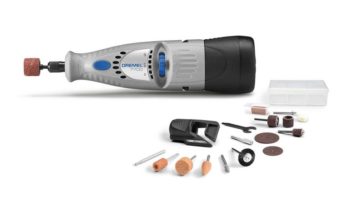 The Dremel 7700-1/15 MultiPro oscillatory power tool is the most popular of all Dremel oscillatory power tools. It has two changeable speeds, high and low, that allow for more control and accuracy while sanding, drilling, or carving. Its 7.2-volt motor can handle any light-duty project, including material surface cleaning, with ease.
This tool's design is also intended for ease and portability, as it is light and compact, and it operates cordlessly thanks to a replaceable, rechargeable battery pack. For enhanced performance versatility, the Dremel 7700-1/15 MultiPro comes with 15 authentic attachments.
Conclusion:
As you can see, when it comes to choosing the greatest oscillatory power tool, experience or a better understanding of the market is crucial. The models highlighted in the above top 10 best dremel multi max rotary power tools have many revolutionary technology features and design splendor, so you can get yours today and make your household repair and improvement projects a lot easier, fun, and more precise, elegant results.