Any small or large business requires certain office essentials to ensure a flawless working process. Certain equipments are inevitable to run a business. Not just for business, they are also useful to educational institutions, commercial applications, etc. A printer is one such device. Gone were the days where the printers can only perform black & white prints. With the technological reformations, there have been lots of functionalities added to printers. In the present article, the discussion is focused on the all-in-one wireless laser printers, copiers, and fax machines.
Suggested from the name itself, these devices are multifunctional. They can print, copy, fax, and many more tasks, without any hassles. But, they are wirelessly operated, so there are no concerns regarding the cable mess. When an office or business premise or any other place is equipped with an all-in-one wireless printer, the working flow streamlines. These devices are famous for high-quality output. Moreover, they can quickly print a huge volume of pages. All the features are easy to use and suitable for different applications. So, to get more insights on the best all-in-one wireless laser printers, copiers, and fax machines, read this article:
List of All-in-One Wireless Laser Printers – Copiers and Fax Machines 2023:
10. Brother MFC-L8610CDW Color Laser Printer: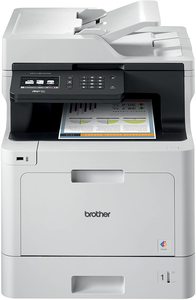 The important features of this color laser printer are mobile printing and scanning, automatic duplex printing, and wireless networking. The built-in auto document feeder (ADF) comes with 50 pages capacity. The manufacturer has equipped this laser printer with print and copy speed up to 33 pages per minute. As a result, it can quickly produce professional-quality color documents.
In addition to printing, it is also well-known for its innovative scanning ability. This Brother laser printer comes with multiple scan-to destinations like USB, email, Sharepoint, network, Cloud services, and more. There is the implementation of advanced security features. But, these features restrict access to device and document access. Moreover, they reduce expenses by limiting color printing. Any unauthorized device cannot access this printer. So, the pack contains this all-in-one color duplex printer, printer drivers, AC power cord, quick setup guide, and user manual.
Pros:
Cost-efficient printing
Grants access to authorized devices only
Boosts work productivity
Why We Liked It?
All the implemented functions are accomplished at high speed. There is a significant saving in operating costs.
9. Brother MFC-J5330DW All-in-One Color Inkjet Printer: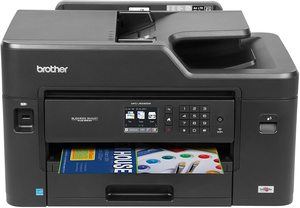 Specially designed for business use, this all-in-one inkjet printer is versatile and easy to use. Belonging from the well-known Brother series of inkjet printers, this device boasts excellent reliability and efficiency. But, the included paper tray comes with 250 sheet capacity. In addition to this paper tray, a single-sheet bypass tray is included. So, it helps to hold card stock and envelopes.
This versatile inkjet printer is famous for producing sharp black text as well as vivid color prints. Some of its important features include two-sided printing, mobile device connectivity, and efficient ink cartridges.
Pros:
Can wirelessly print from mobile devices
Comes with flexible paper handling
Paper tray has a large capacity
Why We Liked It?
We are pleased with its versatility; it can be used at the home, office, educational institutions, etc. The included color display streamlines the workflow.
8. Canon MB5420 Wireless All-in-One Printer: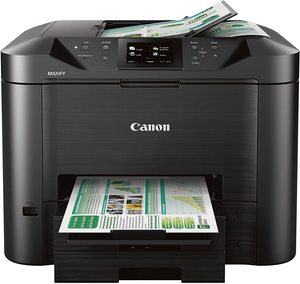 Highly suitable for business and office, this Canon wireless printer is renowned for fast printing and scanning. It can save time through single-pass duplex scanning as well as copying. Moreover, it is capable to scan both sides of documents simultaneously. Within a few seconds, you get your document readily printed out.
With the use of the high-quality ink cartridges, all the output prints appear clear and sharp. But, a high volume of prints is delivered from a single set of ink tanks. So, this device comes with 500 sheet paper capacity and there are two 250 sheet paper trays included.
Pros:
Can handle a large volume of prints
Quick response
High-quality, cost-efficient prints
Why We Liked It?
The MB5420 printer is designed to fulfill the requirements of smaller businesses. So, you get decent quality prints at reduced costs.
7. Canon Color imageCLASS MF634Cdw Duplex Laser Printer: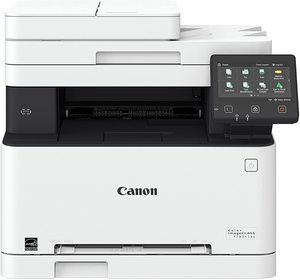 To get professional-quality color documents printed quickly, you can use this duplex laser printer. Belonging from the leading brand Canon, it boasts reliability and efficiency. But, it comes with easy-to-use features like intuitive color touch panel, different mobile solutions, and duplex scan feature. But, the printing speed for both color and black & white documents are 19 pages per minute. So, the first print time is approx. 12 seconds.
With the help of a single-pass, duplex scan, this printer can scan both sides of documents in one pass. Using the Wi-Fi Direct connection, you can effortlessly connect your mobile devices; no need for a router.
Pros:
Sharp images in the print output
Can scan both sides of documents
Implemented with advanced technologies
Why We Liked It?
We admire the superior quality and sharp color documents at the output. They are very much suitable for the business. It is possible to get high-quality photo prints.
6. Epson WF-2760 All-in-One Wireless Color Printer: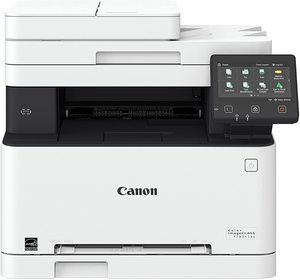 The aforementioned all-in-one printer comes with a fax, copier, and scanner. All the included functionalities work efficiently and flawlessly. It is important to note that the WF-2760 printer is intended for use only with Epson cartridges. The paper holding capacity is 150 sheets.
It comes with all the necessary wireless features. But, there is Ethernet support for connecting Android smartphone, tablet, iPhone, and iPad. Wi-Fi Direct facilitates network-free printing. This color printer also comes with NFC touch-to-print functionality. So, the size of its color touchscreen is 2.7 inches.
Pros:
Easy installation and navigation
Versatile, reliable and quick
Equipped with Ethernet connectivity
Why We Liked It?
There are plenty of wireless features included. So, there is no need to reload often because this color printer comes with large paper holding capacity.
5. Canon TR8520 All-In-One Wireless Laser Printers: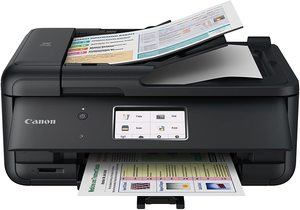 Right from scanning to faxing, this Canon laser printer is designed to fulfill all your needs. It comes with a 5 color individual ink mechanism. But, it presents a decent look to your photos and documents. All the printed documents and photos appear sharp. If you are looking for a versatile printer equipped with plenty of wireless connectivity options, go for this device.
It allows you to connect your smartphone, tablet, laptop, and other portable devices. But, there is support for Bluetooth connectivity and Cloud printing. So, the maximum print resolution is up to 4800 x 1200 dpi. A 4.3-inches LCD touchscreen with an intuitive interface is included.
Pros:
Intuitive LCD touchscreen
Can connect to various portable devices
Plenty of connectivity options
Why We Liked It?
The TR8520 laser printer is suitable for home and office. So, it is designed in a compact size and boosts your work efficiency.
4. Canon MB2720 Wireless All-in-one Printers: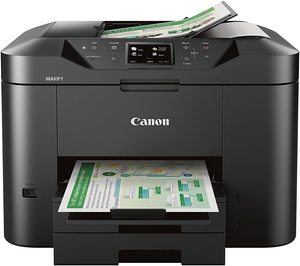 This wireless printer supports printing, scanning, copying, and faxing. It comes with mobile and duplex printing. The two paper trays offer a paper holding capacity of 500 sheets. But, there are high-density inks included. These inks convey laser-sharp text on the documents. As a result, the prints appear high-quality.
With the help of the Canon PRINT app, you can easily print, copy, and scan from your mobile devices. The duty cycle is 20,000 pages. So, the durable construction ensures that this MB2720 printer is built to last longer.
Pros:
Support Cloud-based printing
Large duty cycle
Fast printing and scanning
Why We Liked It?
We liked the support for Cloud printing that helps you to print from your smartphones and tablets. So, the printing process is quick and cost-effective.
3. HP OfficeJet Pro 8710 All-in-One Wireless Printer: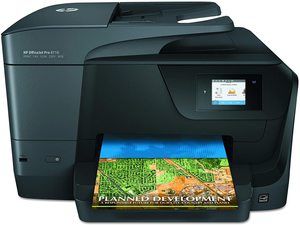 The prominent functions of this color photo printer from HP are print, copy, fax, and scan. It also supports AirPrint and two-sided duplex printing. A bright color touchscreen is included. This touchscreen comes with an intuitive interface. But, the ink cartridges are available to make sure you never run out of ink. The mobile printing support makes sure this versatile printer can print from your smartphone or tablet via the HP ePrint app.
For black & white printing, the print speed is up to 22 pages per minute and it is up to 18 pages per minute for color printing. So, the users can easily access shortcuts via the touchscreen display.
Pros:
Bright touchscreen
Fast speed for color and black & white prints
Quick two-sided prints
Why We Liked It?
This full-featured business printer is famous for fast printing. So, it supports different functionalities for boosting work productivity.
2. Brother MFCL2750DW All-in-One Wireless Laser Printers: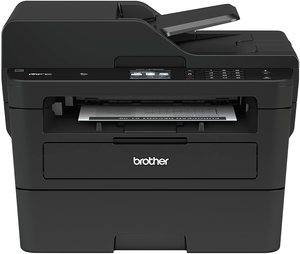 ( )
For home and small offices, the MFCL2750DW is a perfect all-in-one laser printer. It equips with the latest techniques and easy-to-use features. Designed in a compact size, it can easily move to different places. The advanced printing works at a speed of 36 pages per minute. In addition to printing, this device comes with copying, scanning, and faxing capabilities.
2-sided copying functionality saves time. An automatic document feeder with 50 sheet capacity is included. So, the NFC connectivity provides user convenience.
Pros:
Boosts work productivity
Comes with NFC connectivity
Advanced printing at high speed
Why We Liked It?
We liked its Cloud-based printing functionality. But, it can scan to and print from well-known Cloud services. The included color touchscreen provides easy access to shortcuts.
1. Brother Monochrome Laser Printer, MFCL2710DW: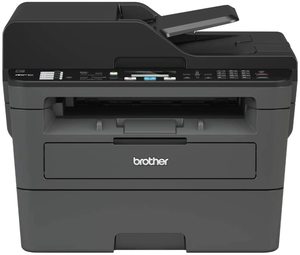 This monochrome laser printer comes in a compact and beautiful design. The maximum print speed is up to 32 pages per minute. But, the automatic document feeder with a capacity of up to 50 sheets saves you time during scanning, copying, and faxing. A manual feed slot provides convenient paper handling for a wide range of papers of different sizes. So, it can accommodate standard-sized papers, envelopes, card stocks, etc.
Pros:
Prints wirelessly from portable devices
Flexible paper handling
Automatic document feeder saves time
Why We Liked It?
There are no hassles when you want to print wirelessly from a smartphone, tablet, desktop, laptop, etc. We liked the fast printing process.
Key features to consider for the best all-in-one wireless laser printers, copiers, and fax machines:
Go through the below section to easily choose the best multifunctional wireless laser printers:
Paper holding capacity:
These multifunctional printers are intended to accomplish a large volume of printing. This is why is it important to check what its paper holding capacity is. For any small or large business, a printer with low paper holding capacity will be useless. But, the large paper holding capacity streamlines the business operation and boosts work productivity. Some of the best wireless printers come with a capacity of up to 500 pages. So, this is very much useful to make the printing process quick and easy.
Speed:
It is useless to buy an all-in-one wireless laser features if it print, copy, and fax at low speed. The purpose of buying these kinds of devices is to quicken business operations. Therefore, speed is the most vital considerations you need to take into account. The best all-in-one printers come with a speed of up to 40 pages per minute. It makes sure tasks like printing, copying, and fax are accomplished at a decent speed.
Wireless features:
All these multipurpose laser printers are wireless in operation. To make the most of your purchase, you need to check what wireless features it comes equipped with. Some of the important features you need to look at are WiFi Direct, various mobile solutions, speed of wireless connectivity, Bluetooth technology, compatibility with devices, and many more. To print and scan from your devices, you need to check whether these devices are compatible or not.
Some of the cutting-edge all-in-one wireless laser printers support NFC touch-to-print capability and Ethernet. In some models, you can also find cloud-based printing and scanning.
Installation:
Most of these printers are easy to install; any new users can easily complete the installation procedure. Even if you have never used a printer before, it is easy to work on the installation. Some printer models come with easy-to-follow installation instructions to simplify the setup.
Concluding Note:
In terms of high-quality printing, copying, scanning, and faxing, these wireless laser printers are the best choice. They support these tasks at a fast speed without any compromise in quality. So, most of them come with advanced wireless features.